LargeV Oral Imaging Software won Technology Innovation Award in the selection activity of "12th Technology Innovation Award" held by Beijing Enterprise Evaluation Association in 2020 .
Software introduction- updated data management function
① 6 kinds of image management function
LargeV Oral Iimaging Software (Hereinafter referred to as SmartV)gather six different images for one patient of CT , Panoramic , Positive / lateral image, Oral x-ray image, Inter-oral scanning image and facial scanning image in one software, which is convenient for the dentist to check kinds of oral images.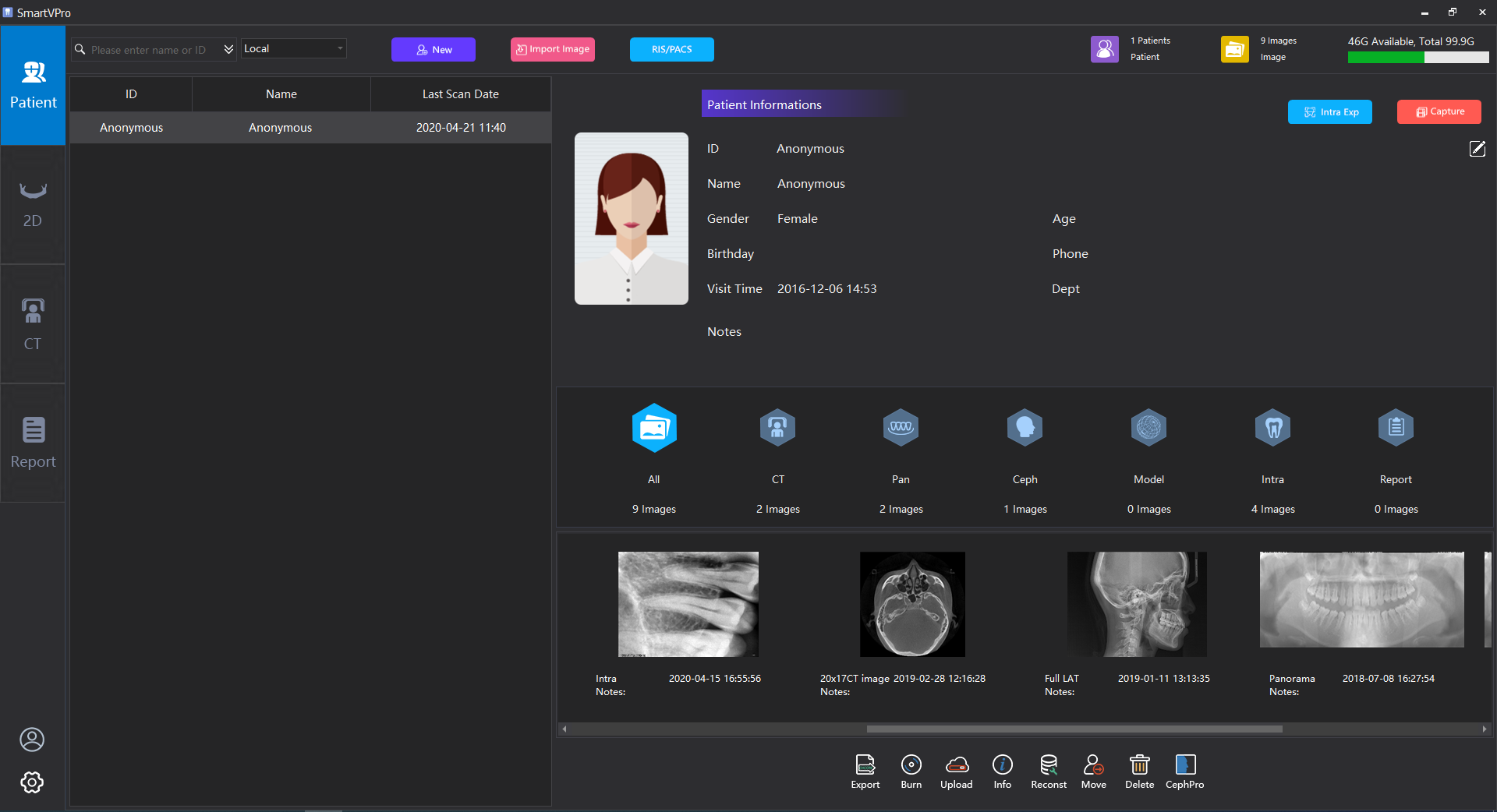 ② Mult- image viewing modes
SmartV shows different 2D images of one patient in one page, which is convenient for the dentist.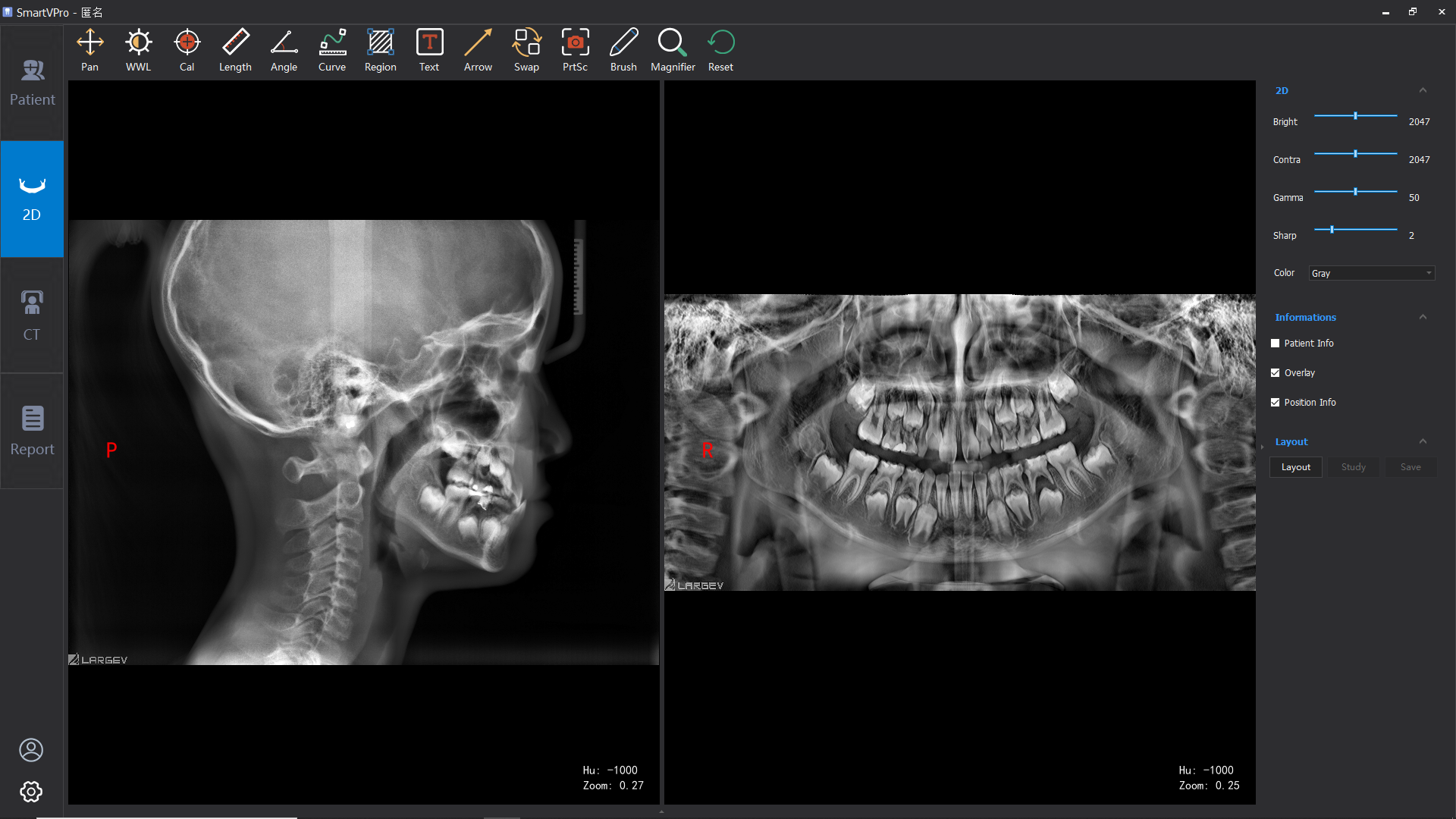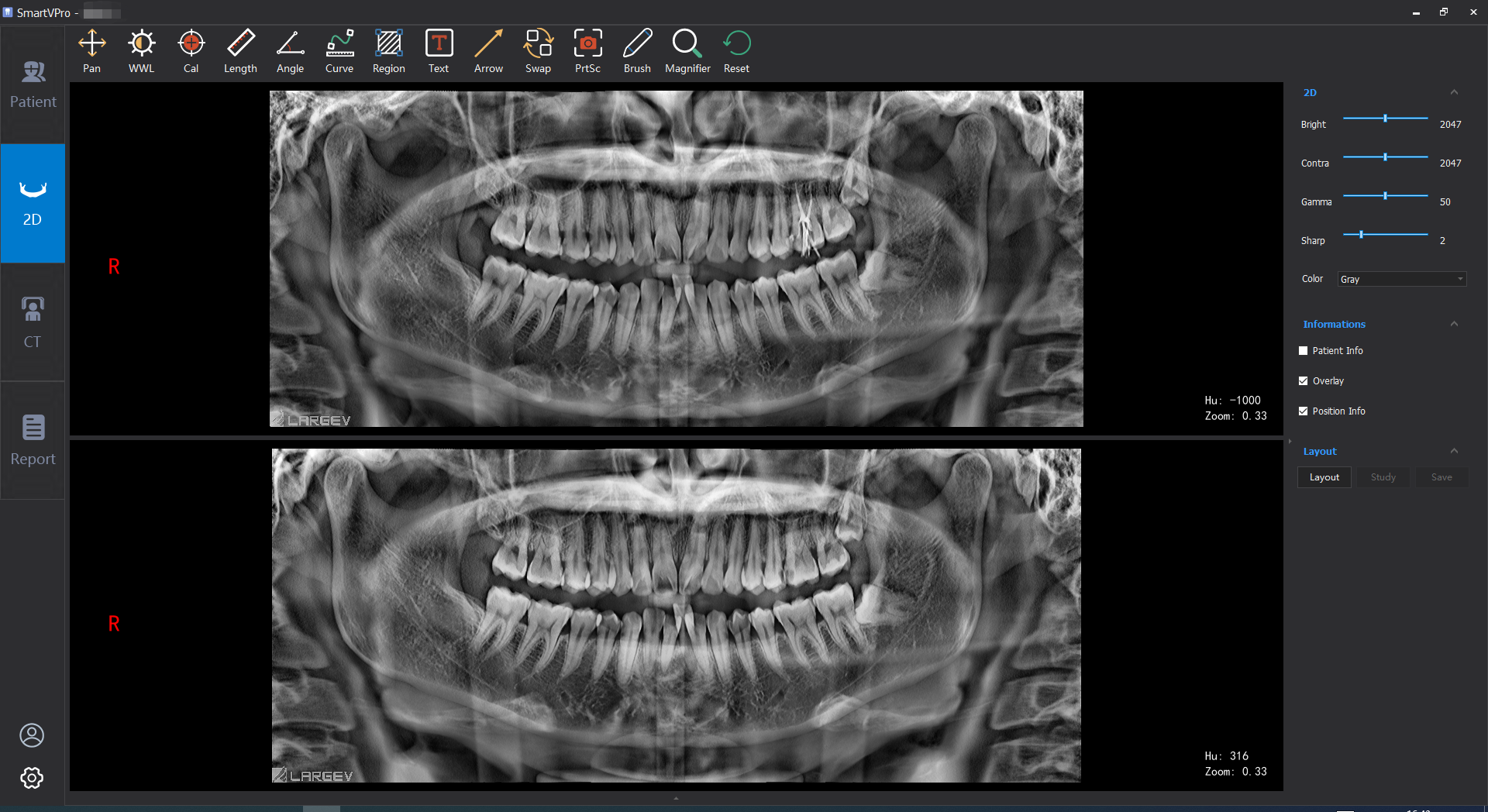 ③ Recificate CT image data with oral scan image data
SmartV software rectificate of patients' CBCT data and oral scan data, dentist develop an accurate plan for implant surgery as well as a useful function for doctor-patient communication.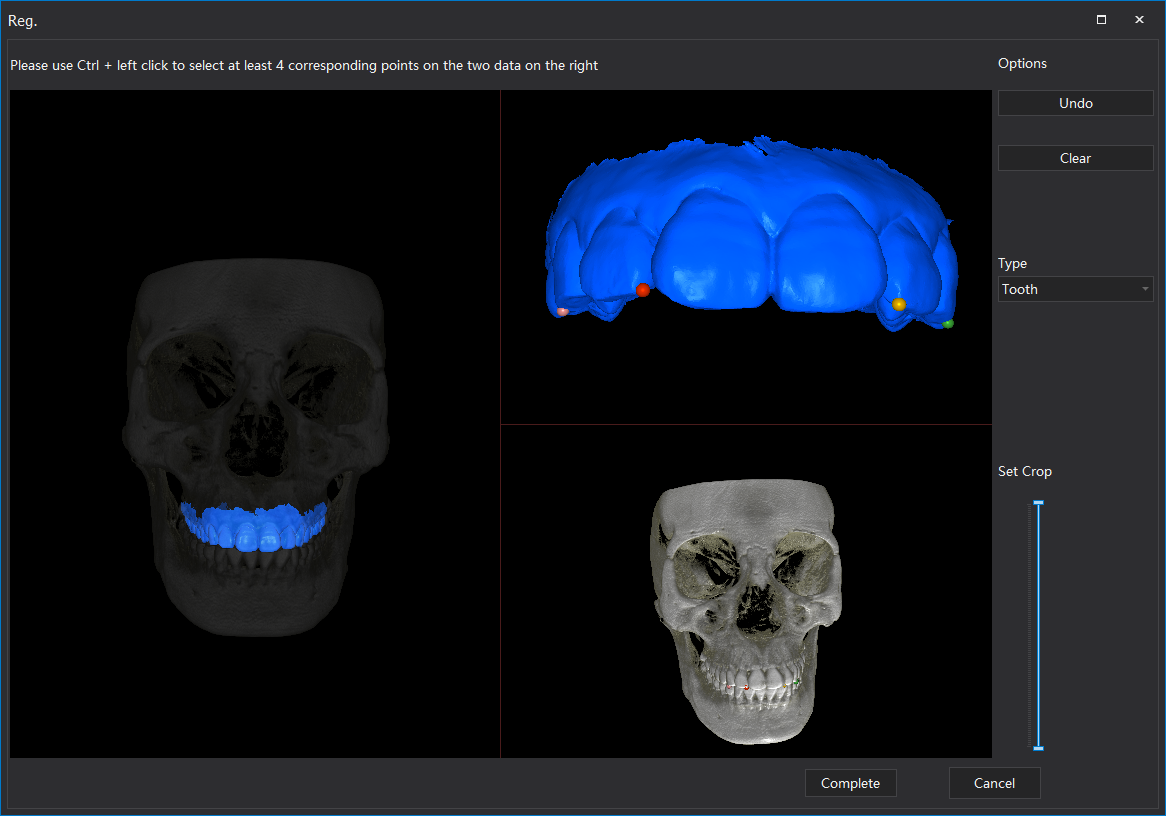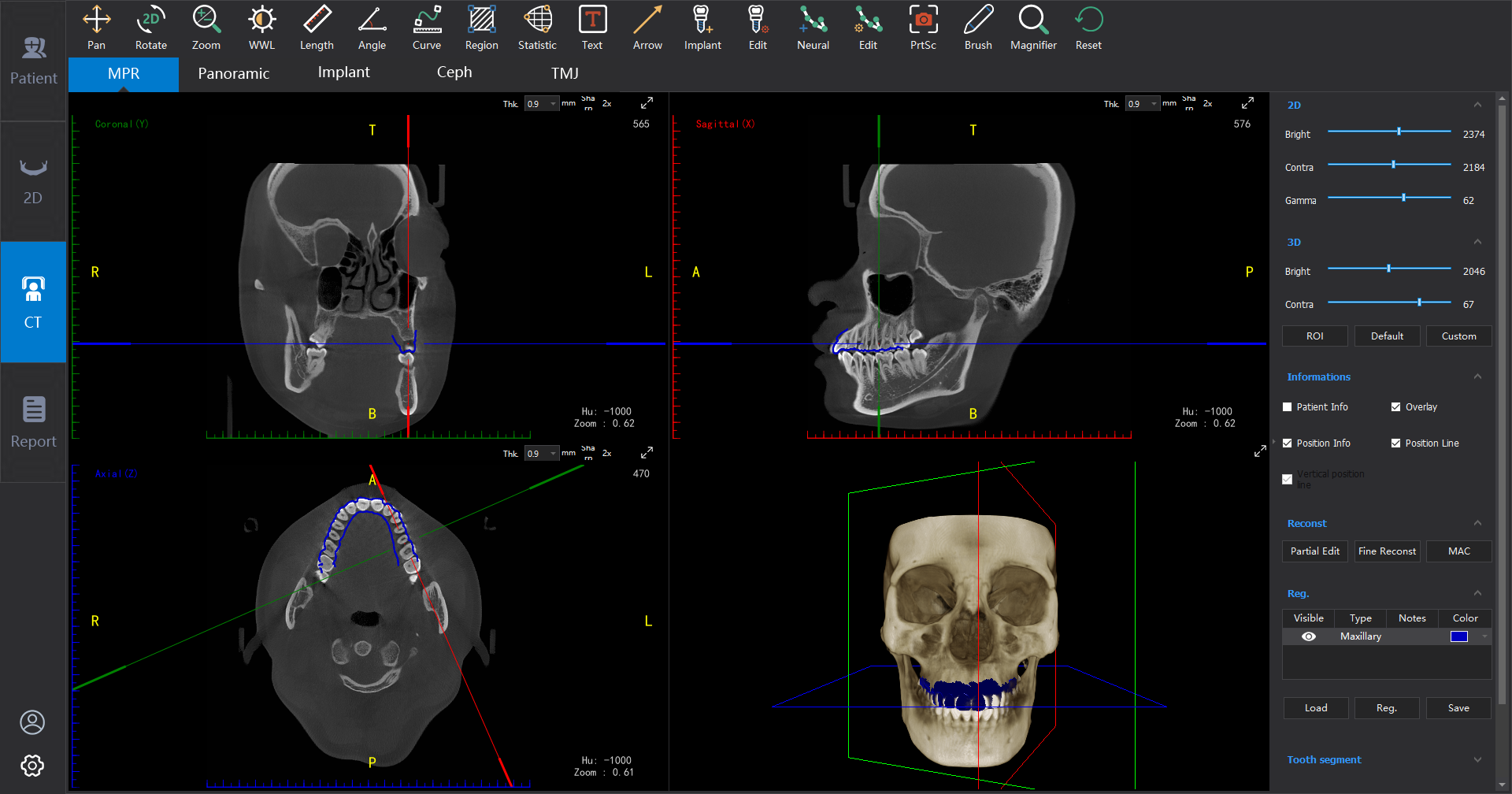 ④ Green Share Functions Based on "Network Cloud"
SmartV saves the dentist's implant design plan in details. All data could be upload and download in different dental clinics, which will be very convenient for dentists .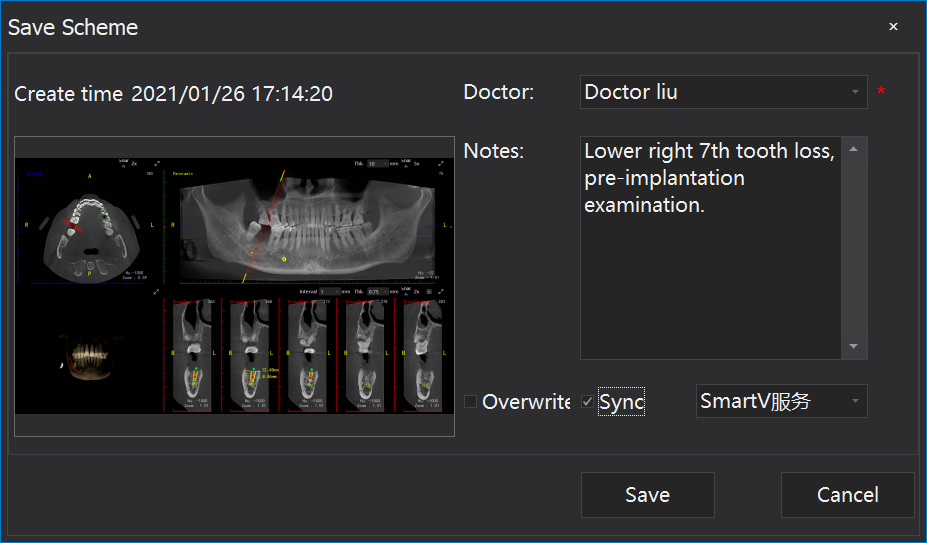 Software introduction-Powerful data processing function
① Multi-planar Reconstruction (MPR)
In SmartV, not only axial plane, coronal plane, and sagittal plane images can be observed simultaneously , but also sections can be performed at any position. At the same time, the buccal lingual section and tongue sections, and near and far middle sections, can be obtained to facilitate the diagnosis.

② Reconstruction of Surface Tomography
SmartV software reconstructs the new surface image from the 3D image data which rely on LargeV intelligent surface algorithm. The image is restored by 1:1 accurate imaging method, which completely solves the problem of original overlap and deformation.


③ Analysis of Positive / Lateral Cranial Position
SmartV software produces a more accurate positive / lateral image from 3D image data than traditional skull slices.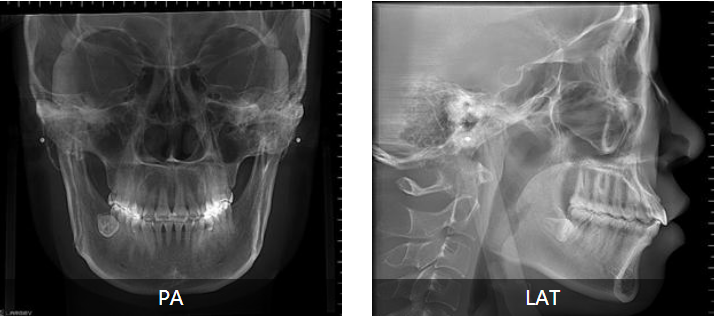 ④ Contrast Observation of TMJ
SmartV software has a visual pattern of contrast observation of left and right joints, allowing doctors to evaluate the diagnosis and treatment effect of temporomandibular joint diseases.

⑤ Simulated Planting
SmartV software can evaluate bone mass in the planting area, outline pre-implantation evaluation such as neural tube, improve the success rate of implantation and avoid possible damage.

⑥ TrueMAR Correction
With the new TrueMAR correction module for metal artifact removal, the system can intelligently correct metal artifact avoid over modifying, and save the original clinical data.

Innovation is the lifeblood of an enterprise. LargeV will insist on "customer-centric", keep innovation and pursue excellence all the time so as to contribute to Chinese medical industry well and provide Chinese dentists and patients the best products and services.